SELECT THE SLEEVE TO BE REDIRECTED TO THE ARTIST PAGE



ARTIST ; THE RUDE AWAKENING
TITLE ; SHE HAS A JUICE BOX
RELEASE DATE ; 24TH November 2023
UK synthpop duo The Rude Awakening are releasing the long awaited third single from their forthcoming album (as yet untitled) on Friday 24th November 2023.
'She Has a Juice Box' penned by Johnny Normal and Bridget Gray, was recorded, mixed and mastered at their studio The Dog House in Worcestershire.
Like many of TRA's original compositions, there is a thread of real-life experiences entwined with fantasy and marinated in charm and a splash of
Vocalist Bridget says: "Going on past TRA releases, no doubt there will be people who will analyse the song title and lyrics and come up with all manner of alternative stories of what 'She Has a Juice Box' is all about. Johnny and I expect that and totally encourage it!
The reality behind the song is really quite simple. We were going to see our friends Gary and Sandra (Subject:2) performing their album launch in Southend-on-Sea in 2018. We were also rehearsing that weekend down South for a festival with Massive Ego, Mr Strange, Leg Puppy, Among the Echoes and other fine synth bands. We were early for the Subject:2 gig and so found a lovely little restaurant for a bite to eat. Anyone that knows me will testify that I do like a little libation with my evening meal. We were taken aback when the waitress brought us over a couple of orange juice boxes with straws... they didn't have a bar licence."
Of course, the electronic duo like to play with words and tease the listener, or rather give you the basic theme and let your own mind run free... "And why not?" added Bridget, "Life should be fun. Look for the joy".
Accompanying the radio edit of 'She Has a Juice Box' is a very punchy 12" remix created by The Rude Awakening.
Bridget's bandmate Johnny explained: "I grew up being a big fan of the creative output of 1980's great innovative remixers, in particular Martin Rushent. I adored the feel of the Human League and Altered Images remixes and Juice Box just lent itself to an alternative mix. Bridget and I stripped back the song to the very basics and then rebuilt it trying to recapture the style and vibe of those classic 12' versions from back in the day.
It's just pure fun and exposes Bridget's beautiful vocal qualities. We both really love it".
More exciting news from The Rude Awakening...
On the heels of this single release there will be a 'She Has a JuiceBox' Remixes EP including some fantastic interpretations of the song by artists and producers such as CARLOS PERON, BLACKCARBURNING, MR STRANGE, TECHNOMANCER, PATRIK KAMBO.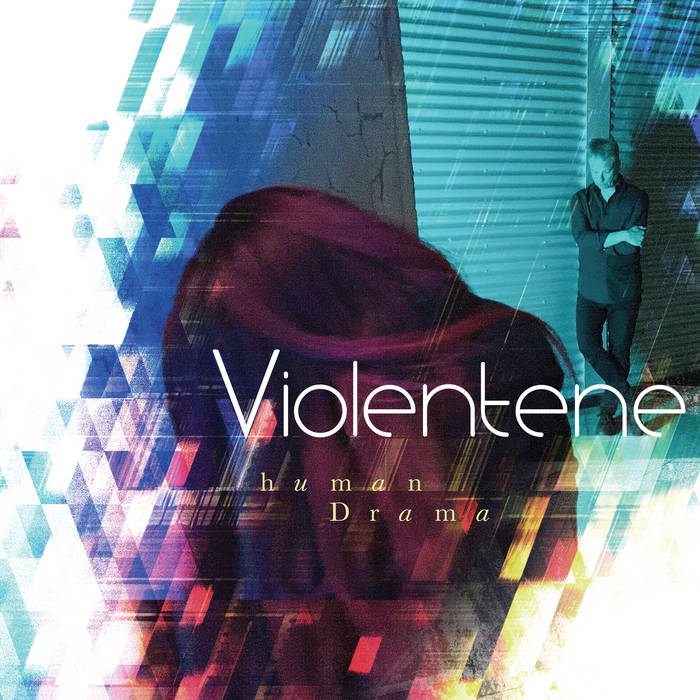 ARTIST ; VIOLENTENE
EP TITLE ; HUMAN DRAMA
RELEASED ; OCTOBER 2OTH 2023
The EP sees Mvrijo and Roland M. pushing their well established lush atmospherics and vocal melodies to new heights, fusing dreamy synth / nu wave and melancholic synthwave, the new release has been an intense labor of love and inspiration, the perfect antidote to the madness of the modern world in chaos. The perfect environment for trying to deconstruct the full meaning of lifes chaos - the human drama of existence.
Coming off the success of the 2021 Otherworld EP, the five tracks on Human Drama feel deeper, more fully realized than ever - a sharp laser-focus on their own brand of ethereal, beat driven synthpop, with the ghosts of previous post punk - dreampop influence never lurking too far away.
Many of the songs had their genesis as soundscapes with inspiration from old 80s synths in Roland's collection, written quickly in moments of clarity, then passed onto Mvrijo and ruminated over until a solid structure appeared- and definitely not overthought, to keep the initial vibe and emotion intact and pure.
With love and respect - enjoy!
Revival Synth

: Overall, this EP is an incredible release from Violentene. The combination of dreamy synth and melancholic synthwave creates a unique and captivating soundscape. Every track is filled with emotion and the intense labor of love and inspiration that went into the making of this EP is evident. Highly recommended.